Basanti Pulao Recipe | Mishti Pulao | Holud Pulao | Mithi Chawal | Sweet Rice
Basanti pulao is a famous and traditional Bengali delicacy made specially during special occasions or festivals and is popularly part of any grand celebrations. This pulao is loaded with whole spices aroma and dried fruits like cashew, raisin, berries, which actually makes this pulao heaven.
Basanti stands for bright yellow color and the pulao is signified by the bright yellow color that comes from the use of saffron but not the turmeric powder. The use of Gobindo bhog rice gives the fragrance.
This dish goes perfectly well with any meat dish such as kosha mangsho, chicken rezala, chicken chaap etc. Among vegetarian options, it goes really well with aloo dum or dalna.
I remember whenever there use to be any one's birthday celebration or any guest coming into our home for a meal, my mother use to prepare this dish.
Ingredients:
250 gram. gobindo bhog rice (fragrant rice of Bengal)
1 tsp. ginger (finely chopped)
1/2  tsp. turmeric powder
3-4 tbsp. ghee
5-6 cardamom
4-5 cloves
2-3 bay leaves
2 cinnamon sticks (1/2 inch)
1 tbsp. salt (adjust as per taste)
4-5 green chilies
10-15 cashews
10-15 raisins
1/2 cup sugar
2 cups of hot water
2 tbsp. milk
Few threads of saffron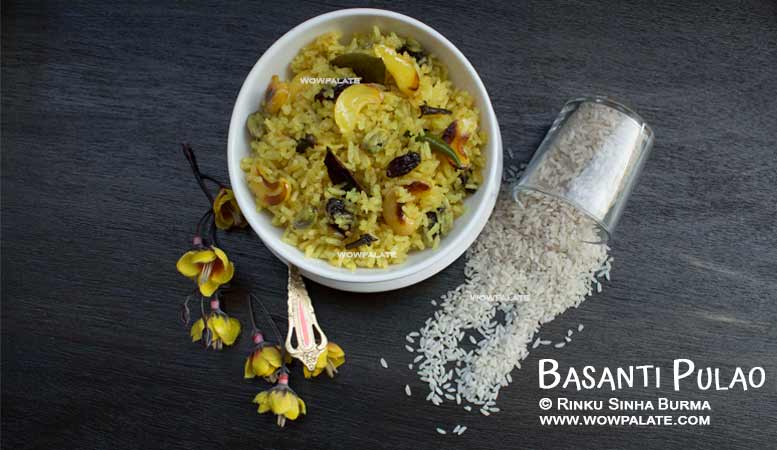 Procedure:
Wash the rice and leave it aside to drain the excess water.
In a mixing bowl, add rice, ginger, bay leaves, clove, cinnamon, cardamom, turmeric powder, and ghee, mix well and let it rest for 30-40 minutes.
In a small bowl add milk and saffron and keep aside.
Heat ghee in a kadhai/pot, add the cashews and stir it until the cashew turns brown.
Add the rice mixture and stir fry for about 4-5 minutes and then add the raisins.
Add hot water and salt, cover with a lid and let it cook for about 10-12 minutes in medium-low heat.
Remove the lid and then add the green chilies and the sugar, mix well. Cover with the lid and let it cook for 2 minutes in low heat.
Finally, add the saffron soaked milk, mix well and cover with the lid and turn off the heat.
Serve with Kosha Mangsho or Aloo Dum.