Beetroot Pickled Salad | Beetroot Salad | Beetroot Recipe
Beetroot pickle salad is my all-time favorite superfood beet salad and you will always find it in my refrigerator. Easy to make and gets ready in a jiffy.
Beetroot is a root vegetable and both the root and its leaves are extremely nutritious. It was first cultivated for its medicinal properties. Although in Ancient Greek history it is referred to as a "Food of the Gods". It became popular particularly in Eastern Europe from where the famous soup Borscht, originated.
Now, a day's it is considered as a popular superfood. They are not only versatile and delicious but are easy to include in all kinds of recipes. You can have it in the form of juice, soup, salad, sauce, cake, cutlets, pickles, chips, etc. Also, you can cook the greens just like spinach.
It is packed with essential nutrients and is a great source of fiber, folate, manganese, potassium, iron, vitamin C, etc.
Grated raw as a salad with a dressing of olive oil, lemon juice, and salt, is the best way to retain all the nutrients. It also has a lot of health benefits.
Lowers blood pressure
Helps in cancer prevention
Helps in the prevention of anemia
An excellent energy booster
Lowers the risk of common diabetes complications
Beetroot juice protects the liver from oxidative damage and inflammation
It is a good source of important Vitamin B9, which is necessary for the formation of blood cells.
Today I am sharing a very simple and delicious salad recipe, which I often make at home.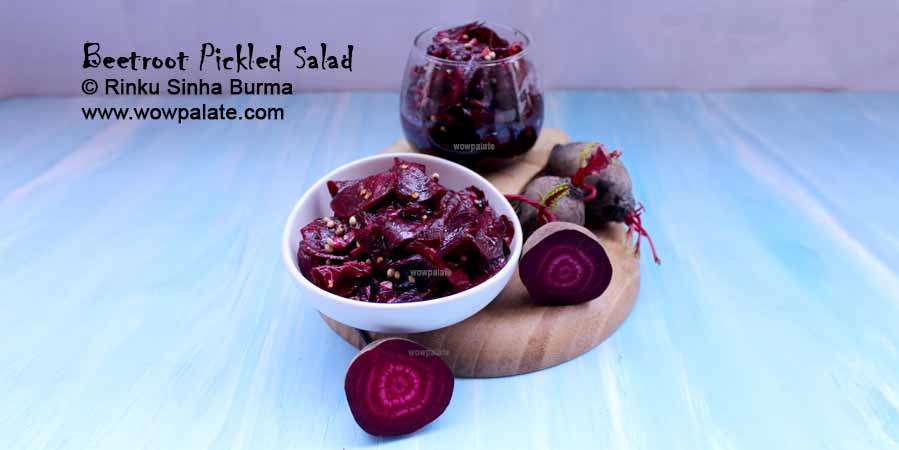 Ingredients:
500 gram. beetroot (peeled & thinly sliced)
7-8 garlic cloves (finely chopped)
1 tbsp. coriander seeds
1 tbsp. chili flakes
1 tsp. cumin powder
5-6 tbsp. olive oil
4 tbsp. sugar
8 tbsp. vinegar
Salt to taste
Procedure:
In a mixing bowl put the sliced beetroot with 3-4 tbsp. salt and keep aside for 15-20 minutes.
In a small pan add olive oil, garlic, coriander seeds, cumin powder, chili flakes and cook for 2-3 minutes and keep aside.
Drain excess water from the beetroot or squeeze the beetroot and put it into a mixing bowl.
Add sugar, vinegar, and the prepared oil and mix well, at this stage taste the seasoning and if required adjust the seasoning.
Put the pickle into the refrigerator for 2-3 hours.
Serve as an accompaniment.