Stuffed mushrooms are a classic appetizer and very easy to make. Though there are plenty of variations out there.
Recently, one of my friends was there at my place with her kids and she gave me the challenge to make her kids eat vegetables. So, I made this whole mushrooms stuffed with broccoli, bell pepper, sweet corn, green onion, and to make it look tempting, sprinkled some grated cheese on top and plated it colorful.
Believe me, within few minutes all the mushrooms got vanished and they asked me, Aunty, can I have more. At times handling kids are really challenging.
Since that day my friends keep on asking me for the recipes.  I am sharing the recipe with you all so that you can also make it at home and make your guest happy.
These easy Stuffed mushrooms are loaded with flavor, could not be any easier. They have a simple filling topped with cheese. You could try other combinations as well.  I use the great big button mushrooms but for a party, you certainly could use the smaller mushrooms and this recipe will do wonder.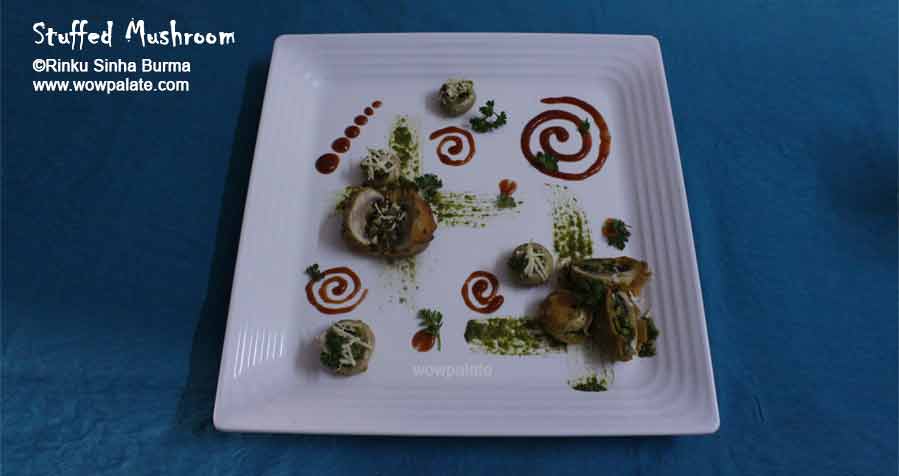 Ingredients:
12-15 button mushrooms
6-7 chopped garlic cloves
1 medium onion chopped
2 tbsp. chopped green onion
2 tbsp. chopped bell pepper
2 tbsp. chopped sweet corn
4 tbsp. chopped broccoli
1/2 cup refined flour
1 cup breadcrumbs
1/2 cup grated processed cheese
1 tbsp. crushed black pepper
Salt to taste
Oil for deep frying
Procedure:
Remove stems from mushrooms and chop them. Make a cavity in each mushroom cap with the tip of a knife. Set aside.
Heat 1 tbsp. oil in a pan. Add garlic and onions sauté until translucent. Add chopped mushroom stems, onion, bell pepper, sweet corn, and broccoli. Cook until all the moisture evaporates.
Add salt and black pepper powder. Sauté for a minute. Remove from heat and add cheese and mix.
Stuff the mushrooms caps with this mixture.
Take refined flour in a bowl. Add sufficient water to make a batter of coating consistency. Add salt to taste.
Spread the breadcrumbs on a plate. Heat sufficient oil in a deep frying wok/ pan.
Dip the mushrooms in the batter and then roll in the breadcrumbs to coat evenly. Repeat the procedure once again.
Deep-fry till golden brown. Drain and place them on an absorbent paper.
Cut into two and serve hot with tomato ketchup and green chutney.