Aam Pora Shorbot Recipe | Roasted Mango Drink | Mango Drink | Bengali Aam Panna
You will find this sour and green color raw mangoes abundantly in the markets during this season of the year. According to Ayurveda, it is known for its cooling properties and is often used to make refreshing drinks and chutneys.
Aam Pora Shorbot drink is made with raw mangoes that are burnt or charred on a stove or wood fire. A glass of chilled Aam Pora Shorbot or you can say Bengali Aam Panna, is a healthy and fresh alternative to your fizzy drinks or packaged juices and is extremely relaxing and rejuvenating in the summers and is a great summer drink from Bengal.
It is also, considered as a great home remedy for heat strokes. Its tangy flavor compliments the weather beautifully.
You can prepare a concentrated version and store it and enjoy the drink whenever required. Once you taste it, you won't be able to stop drinking it.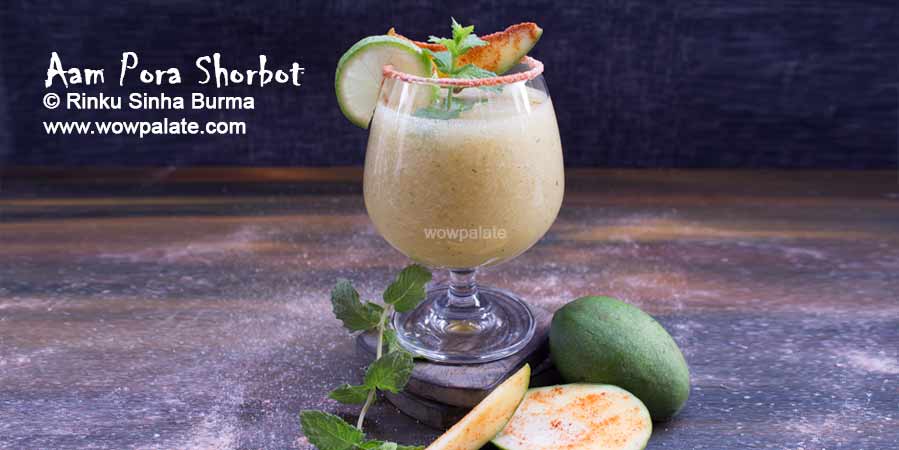 Ingredients:
500-gram raw mango

1 cup of sugar

½ cup of water

Black salt to taste

½ tsp. Roasted cumin powder

1 string of mint leaves

1 green chili

1 tbsp. gondhoraj lemon juice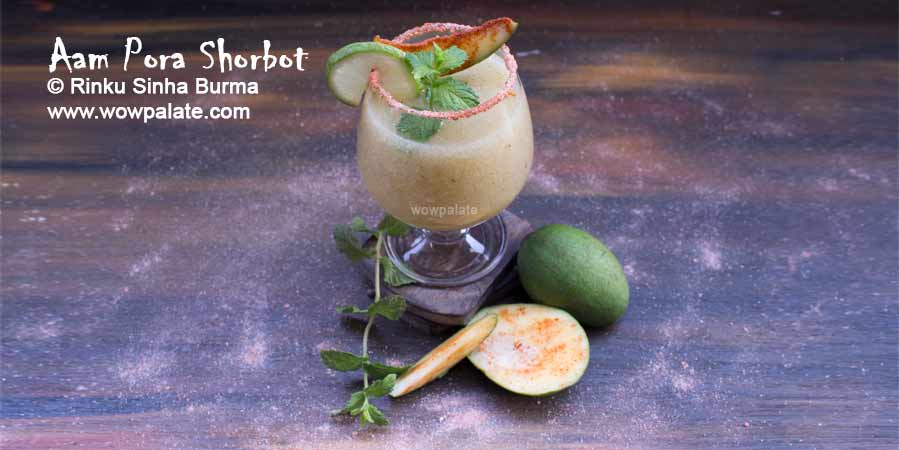 Procedure:
Make some slits on the mangoes with the help of a knife or prink with a fork.

Roast the mangoes on an open fire either using the stove top or on charcoal.

Turn after 1 or 2 minutes, so that all the sides are equally charred. Roast the green chili in the same way.

Once done take out and keep aside.

Peel of the skin, discard the seed and take out the pulp.

Put the pulp in a blender, along with rest of the ingredients and blend it into a fine puree.

This is concentrated, store in a bottle or jar in the refrigerator.

Add chilled water and ice cubes according to your taste before drinking. Also, adjust the seasoning if required.