Shalgam Ka Bharta | Mashed Turnip Recipe | Punjabi Shalgam Bharta Recipe
Shalgam Ka Bharta is a traditional Punjabi delicacy prepared during winters and it is a super delicious and simple dish. This mashed turnip is cooked in ghee (clarified butter) and with very few spices.
This delicious vegetable has long been disdained as cattle fodder and there are many varieties sold around the world. It is actually a root vegetable and popular European staple food.
When buying turnip choose those that are small in size and heavy, also avoid the extra-large turnip which can have coarse, woody texture and overpowering taste. The smaller ones are slightly pungent and sweet and have a pleasant taste. You can eat them raw or cooked.
Turnip may not be the most glamorous vegetable but it is packed with nutrients. They are loaded with fiber, Vitamin K, A, C, E, B1, B3, B5, B6, B2, and Folate, as well as minerals like Manganese, Potassium, Magnesium, Iron, Calcium, and Copper. It is also considered a good source of Phosphorous, Omega-3 fatty acids and protein.
It has lots of health benefits:
Lowers blood pressure
Helps reduce cancer risk
Strengthen the immune system
Prevents body odor
Cures Asthma
Beneficial for weight loss
Promotes healthy hair
Prevents disease and cell damage
Promotes healthy metabolism and hormone
Until I moved to Delhi, I never had this dish. First time I had this dish cooked by Chef Reetika Gill and immediately I fell in love with this dish. Being married to a Punjabi I had the advantage, so ask my Mother-in-law about this dish and she guided me with the procedure to prepare this dish. Since then whenever I get this vegetable, I prepare this dish and now, I have curated my own version as well and it has become one of the favorite dishes of my husband.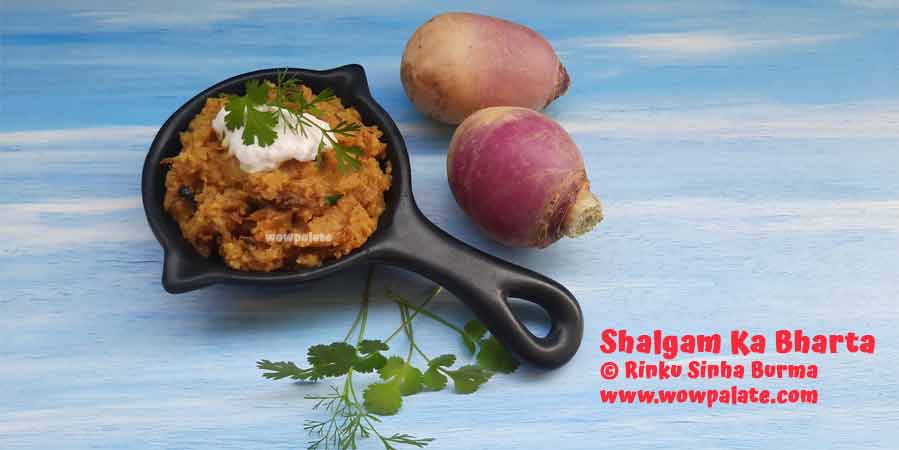 Ingredients:
500 gram. turnip (cut into thick slices)
1 tsp. cumin seed
2 tsp.chopped fresh garlic
2 tbsp. ghee (clarified butter)
1 tsp. chopped green chilies (adjust as per taste)
1 medium-size sliced onion
1 tsp. turmeric powder
1 tsp. roasted cumin powder
Salt to taste
2 tbsp. malai/cream
1 tbsp. chopped fresh coriander leaves
Procedure:
Heat a pot and add ghee, cumin seed, green chilies, garlic and stir it.
Add sliced onion and stir it for a minute.
Then add the turnip, salt, turmeric, cumin powder, mix well and cover it with a lid and let it cook for 9-10 minutes in medium heat.
Remove the lid and check if the turnips are cooked.
Mash the turnip with the help of a masher.
Add malai/cream and give it a nice mix.
Finally, add the fresh coriander and transfer it to a serving bowl.
Serve with hot roti or any flatbread.